Home -> Computer Desks -> Computer Desks Buying Guide


Computer Desks Buying Guide
Furnishing Your Office: How to Fill Your Workspace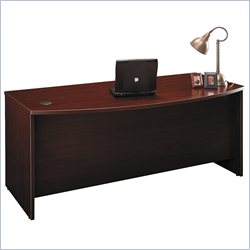 If you're looking to furnish an office space and you're starting from scratch, an office set might be your best bet. There are plenty of manufacturers who offer different 'series' which feature a selection of diverse furniture pieces. The Bush Furniture Collection Series C, for example, carries a bookcase, conference table, filing cabinet, hutch and desk.
So what should you be looking for when you're shopping for each piece? Let's take a look.
Bush Bookcase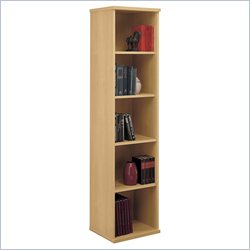 While a bookcase is obviously suited to books, it is so much more than that. Bookcases are extremely handy storage units and can be used to stock a variety of different items in your office. Bookcases can easily be converted into shelf space for shoes or clothing, a china cabinet or a media storage unit.
When choosing a bookcase, make sure that you measure the available space in the spot you're planning to put it in. Choose a place, see how much room you have, and then find a bookcase that matches those measurements. wall-mounted and corner bookshelves are great options for those looking to save space, or find a stylish, traditional looking bookcase that fits the décor.
Bush Conference Table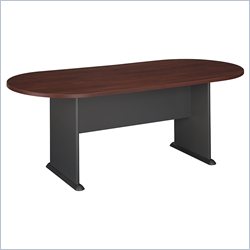 Conference tables are better suited for larger business offices where staff meetings are commonplace. Conference tables are great for meetings, presentations, interviews and more. Traditionally, conference tables are large and regal, so you'll want to choose a darker finish like mahogany or mocha cherry.
If your office has a more laidback feel, a round conference table in a lighter finish like light oak or auburn maple would fit in nicely.
Bush Filing Cabinets
Filing cabinets are the ultimate storage units for the office. They will keep your files organized and safe from spills, stains and becoming lost. Filing cabinets typically come in a lateral or vertical design, and won't take up a ton of space. Filing cabinets should have smooth and easy to open drawers, and many filing cabinets come with a lock and key to keep your possessions safe.
Bush Desk
The office desk acts as your own private workstation. Depending on your needs, there are a variety of different types to choose from. A computer desk is the optimal choice for those who spend the majority of their time on a computer, and will have space for accessories like a printer or your mouse and keyboard. A writing desk is for those who like to work with pen and paper, and can be a beautiful addition to your bedroom or home office.
Your desk should come with plenty of storage space, with multiple drawers and shelves. You'll find standard shaped desks, L-shape, U-shape and more.
Bush Hutch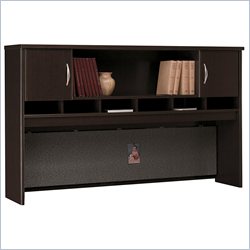 A hutch is a great addition to any desk, and provides even more storage space. A desk hutch is a wonderful option for a small office or room because it only takes up vertical space, leaving you more room for other furniture pieces. A hutch is a great place to hold all of your software and office supplies, and can even be a spot for items such as your computer tower or books.